Research People in the Translational Medicine Living Lab
The research team involved in the Translational Medicine Living Lab provides a wide range of compentencies spanning from the pure science material technology to the expertice of product implementation of the most advanced techniques in the field of biotechnology, nanotechnology and biomaterials. The scientific board is completed by excellent clinical staff and opinion leaders.
The Scientific Coordinator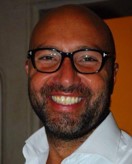 Alessandro Sannino is  the Scientific Coordinator of the Translational Medicine Living Lab. He is Professor of Polymer Science and Technology and director of The Bioslab in the Department of Innovation Engineering at Università del Salento. He provides directions and insight to the researchers from Università del Salento involved in the living lab and promotes the interaction with the other researchers affiliated with the partner institutions.[learn more]
The Scientific Team

Click on the picture to learn more about each person!