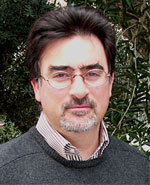 Prof. Pietro Favia, Ph.D, is Associate Professor (General Chemistry) at the Department of Chemistry, University of Bari. Associate to the former CNR Institute of Inorganic Methods and Plasmas, now CNR NANOTEC. Coordinator of the Ph.D. School in Chemical and Molecular Sciences of the University of Bari.
Expert of Plasma Processing of Materials, author of more than 180 papers, reviews, editorials and patents, Prof. Favia is founding partner of the Spin Off Plasma Solution srl, and editor in Chief of Plasma Processes and Polymers (Wiley-VCH).
RESEARCH INTERESTS
Surface modification (deposition, grafting, etching) processes of materials in non equilibrium (cold) plasmas
Plasma diagnostic (Optical Emission Spectroscopy) and surface analysis (XPS, Contact Angle, ATR-FTIR, SIMS, AFM, SEM) for understanding plasma-substrate interactions
Biomedical applications of plasma-modified materials and nano-technology applied to biomaterials
Tissue Engineering
Plasma Medicine
Industrial applications of cold plasmas.