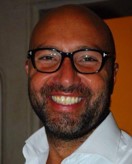 Bari, 1972. Chemical Engineer, PhD in Polymer technology at University of Naples, Post Doc in Bioengineering at MIT, Cambridge, USA, is Associate Professor of Polymer Technology and Biomaterials at the University of Salento, Italy.
Board Member of the Puglia District of Technology and of the Puglia Agency for Tech Transfer (ARTI). Nominated expert member of ISS (Istituto Superiore di Sanità) in 2011 for Tissue Engineering, acted as a consultant for COTEC, a Foundation of the Italian President of the Republic.
Author of more than 80 papers and book chapters and more than 20 international patents. Received the approval of Ethical Committees of primary International Hospitals for tens of human studies based on his intellectual property. Founded 4 Spin Off companies (former CEO of three of them) with a cumulative fund raising of more than 70Meuro, received the Fierce 15 award in 2011 for one of them (elected among the 15 most promising biotech company of the year in US).
Intervista con Alessandro Sannino – Università del Salento from TRIWU on Vimeo.