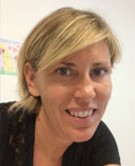 Since 2013 Francesca Gervaso is researcher in Bioengineering at Department of Engineering for Innovation of University of Salento and in December 2013 she received the National Academic Qualification as Associate Professor in Materials Science and Technology from MIUR.
As an undergraduate student she spent one year at University of Glasgow in Scotland (1995-1996) and in 1999 she developed her thesis project at Great Ormond Street Hospital for Children in London.
She received her master degree in Mechanical Engineering in 2000 and her PhD in Bioengineering in 2005 from Politecnico of Milan. Since 2005 to 2013, she worked within several projects as research fellow on synthesis and characterization of bone and cartilage regeneration at Politecnico of Milan and University of Salento. She has been the Scientific Advisor for the Executive Training Programme Activating RINOVATIS (2014-2015).
RESEARCH INTERESTS
Development of material and scaffold for regenerating bone and soft tissues of sheletal joints
Synthesis of bioceramics which are suitable for sintering, bioresorption in vivo and osteinduction
Development of photopolymerizable ceramic mix for scaffold fabrication via rapid prototyping and 3D Printing
Mechanical characterization of tubular scaffolds for the peripheral nerve regeneration
Development of scaffolds for meniscus regeneration
Hydrated soft tissues mechanics using poroelastic approach based on both computational and experimental techniques
Computational modelling of the mechanical interaction between drug eluting stents and arterial walls
Biomechanical behaviour of skin in plastic surgery applications
Fluid-dynamics of the uterine circulation in pregnancy and of the children's cardiovascular system based on 3D reconstructions from bio images