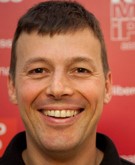 Dr. Roberto Furlan is the Group leader of the Unit of Clinical Neuroimmunology at Ospedale San Raffaele. He completed his medicine studies in Milan and gained a PhD in London at the Open University before obtaining the specializazion in Neurology. He has been Visiting Scientist at the Department of Neurology of the University of Chicago, USA, in 1992 and at the clinical laboratories of Sao Rafael Hospital, Salvador-Bahia, Brasile, in 1993. He then was post-doctoral fellow at the University of Pittsburgh, Pittsburgh, USA.
RESEARCH INTERESTS
Gene therapy approach to deliver cytokines in the inflamed brain on mice models
Characterization of microvesicles in humans and their release from a microglia cellline
Study of the number and relation to clinical and para-clinical data of microvesicles in the CSF in demented patients
Immunologically profiling of patients affected by major psychoses such as schizophrenia, major depression, and bipolar disorder.